It might be difficult to define 'Chinese food' when there are so many varied regional cuisines in China. As a result of our vibrant Chinese population here in Melbourne, we've been fortunate enough to sample everything from har gao to siu mai, as well as mapo tofu and Hainanese chicken rice. The following is a list of restaurants (casual and upscale) where you can eat if you don't feel like cooking at home. To show your support for our Chinese community, savor steamed dumplings, hand-pulled noodles, and glazed BBQ duck at our annual Chinese food festival. In the end, someone has to do it. We've compiled a list of the greatest locations to eat dumplings if that's all you want. After dinner, how about a drink? Here is a list of the top 12 Chinese restaurants in Melbourne, compiled by Melbourneist.
Chef David
Regardless of the time, Chef David is always ready to deliver delectable meals. Let's begin with the interiors first and then move on to its cuisine.
The restaurant has illuminating polished concrete walls, leather chairs, and brass fixtures. Neon signs flash, and strobe lights whirl throughout the 160-seater room as the sun goes down. It is one of the top Chinese restaurants in Melbourne because of its amazing décor. 
When the restaurant reopened, it became a Sichuan grill-style Chinese restaurant in Melbourne city. 
Sichuan peppercorn is prominently featured on the menu, which is among the most on-demand meals in the restaurant. Once you've had some pork belly or shrimp, you can try out something more substantial. One highlight of the restaurant is the entire fish served to you at your table and the grill.
On the Dare to Try menu, eaters can choose from various offal selections, including pork and duck intestines. Other choices include cold and fried foods and Chef David's hotpot favorites. Orders may be placed on an iPad, but staff members can also assist you in choosing the perfect dish. 
The menu also has a long list of beverages. Cocktails such as the Fitzroy Pool Punch (a gin concoction mixed with peach ginger tea and white wine) and a wide selection of beers on tap and in cans, as well as an extensive wine list. Visit to find your best meal in Southbank Melbourne.
Flower Drum
Located in Chinatown for almost 30 years, it is the globally renowned Restaurant in Melbourne city. The most distinctive dish, Peking duck, is everyone's favourite. Your waiter will bring you a freshly roasted duck wrapped in a thin homemade pancake to your table every day.
If you're looking for an authentic Canton-style eating experience with meals like the steamed dim sum, lamb spring rolls, or baked jade tiger abalone, this is the place to go. Despite its prices, it's one of the best places in town. You can find the delectable Asian cuisine in its purest form. The best thing is that the staff is kind and helpful, making the experience even better. 
Mud crab in Xiao long bao is delicately wrapped in a creamy seafood broth. Cooked in a clay pot with boiling water, this hearty stew of wallaby tail and tart lingonberries is thick and spicy.
Another famous is the delicate fishy noodles made from barramundi, stir-fried with tangerine zest, shallots, and sweet, dry pork sausage. 
Flower Drum has entered a new chapter with Jason's arrival. With roots in history and the vibrancy of chefs who adapt to changing seasons, this Chinese restaurant in Melbourne includes Cantonese and some Sichuan cuisine.  
The chef introduces a modern digital menu and revamps the long old one. 
The restaurant is worth visiting if you want to enjoy an alluring atmosphere and excellent cuisine and service. Even in Melbourne, the country of the finicky diner, a decade is a long time in the restaurant industry. For 46 years, two recessions, a pandemic, the digital era, and a swarm of screechers proclaiming. The demise of fine dining, this restaurant is still as amazing. 
Flower Drum's is a perfectly planned ballet in the Melbourne Chinese restaurant. The waiters have been practicing for more than 20 years. 
Even if you are a regular, you will be treated like a VIP, with their own reserved tables. 
Executive chef Anthony Lui would still make lemon chicken with all the finest ingredients on hand if requested. Jason, Anthony's son, is now in charge of the restaurant floor, keeping track of the faces of the six to eight waiters. They service each table and direct them in a calm, efficient manner. 
So, if you are looking for the best Chinese restaurant in Melbourne, this is the one you should visit. 
Lee Ho Fook
Lee Ho Fook is among the top Chinese restaurant in Melbourne. It has a set menu of small delectable meals on the graf-scrawled Duckboard Place.
You can explore the Sunday lunch menu in this Chinese Restaurant Melbourne on any occasion. The lunch has a four-course set meal and nearly the same number of wines to pair with it. The cost is $80 per person, plus an additional $60 if you'd want to drink alcohol in addition to the food.
If you're going to go out for dinner, you'll have to pay twice as much and get four more dishes.  
If you're more of a two-hour package rave bruncher, then this is the place for you. It's friendly, yet there's a noticeable lack of euphoria. 
Even while the meal should satisfy most people in this Chinese Restaurant Melbourne, additional options are available if they're ravenous, such as the sweet-salty straddling baked cheese pie or a Beijing through Guangdong Peking duck. 
Wines from Tasmania and Victoria make up most of the pairings with the Cobaw Ridge. Lee ho Fook can be followed by the directions.
After all, it is among the best Chinese restaurant in Melbourne that you don't want to miss. 
Tim Ho Wan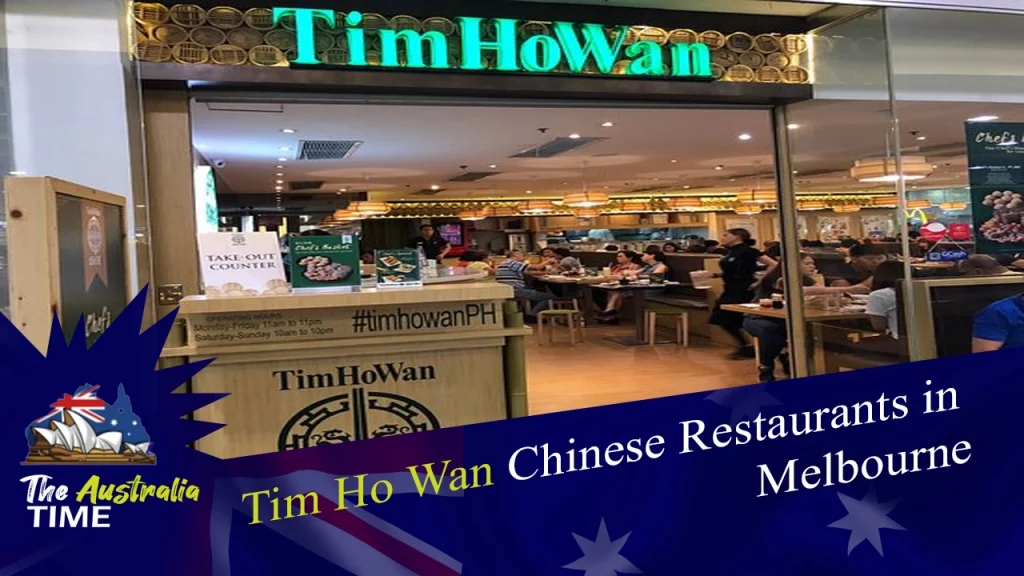 A year after Tim Ho Wan originally opened in Hong Kong, the Restaurant's founding chef Mak Kwai Pui was granted a Michelin star. There are now more than 20 branches throughout the world. Find this Chinese Restaurant in Melbourne city by following the directions and visiting that great place.
New York City's version of Hong Kong's Tim Ho Wan is far from the original. More than 100 people work at this location and serve you the best Chinese cuisine ever. You won't have to wait long for a waiter since they are always available at every table. 
The core values remain the same as the original franchise. The food is prepared perfectly, just like in Hong Kong. You can get your hands on the famed barbecue pork buns. They are filled with char siu pork and baked rather than steamed for an extra crispy exterior before being served. This means the restaurant is among the best. 
Pan-fried turnip cake, egg-filled spring rolls, and pork and shrimp siu mai topped with an umeboshi plum are excellent (a small salty, pickled plum). Congee and rice with meat and a fried egg are among the heavier meals on the menu.
Din Tai Fung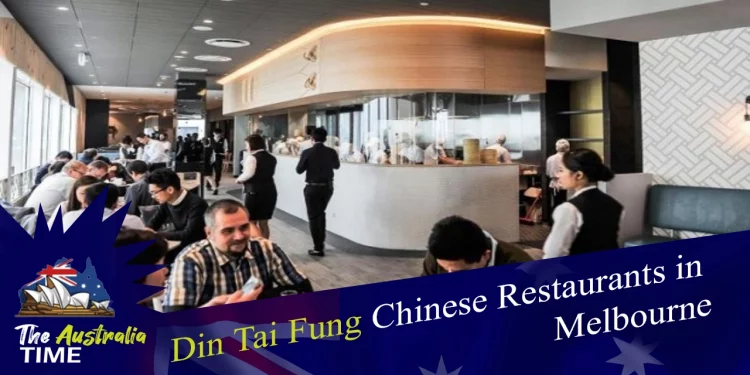 Stacks of bamboo baskets dangling precariously over steamers can only be found in Din Thai Fung Chinese Southbank Melbourne. Din Tai Fung, the renowned Taiwanese dumpling company, sprang to fame after one of its restaurants. 
Sydney is currently home to several Din Tai Fung restaurants, which opened in 2008. There are 235 tables at Emporium, Melbourne's first DTF restaurant. It also encompasses a whole new level. Diners can gaze out over Little Bourke in the main dining room and see the precise dumpling masters in action.
A single facet of producing dumplings focuses on three months of training for the chefs. Who create DTF's famous, soup-filled xiaolongbao. Whether it's kneading the dough or rolling it out, stuffing, folding or plucking, every stage in the dumpling-making process is unique and perfectly done by the chefs. 
Din Tai Fung provides a wide variety of Taiwanese and Chinese cuisine. If you're looking for something a little more exotic, there's silky tofu encrusted with pork floss. Also black-eyed eggs, Taiwanese Fried Chicken, and freshly prepared noodles. Dumplings, on the other hand, are the real deal here.
If you're looking for a cheap night on the town, you won't be disappointed: beer options vary from cans of Budweiser to a $24 microbrew from Garage Project. The Jamsheed Roussanne is one of the centerpieces of the wine list.
At most times of the day, you may expect a line – but it's worth the wait. So, for an amazing Chinese meal, don't forget visiting the Din Tai Fung. Trust me; you won't regret it.
Secret Kitchen CBD
When you walk inside the Restaurant, the first thing you see is the enormous fish tank. Secret Kitchen is one of Victoria's most well-known seafood restaurants. So it's no surprise that the menu is dominated by seafood. Visit the best Chinese cuisine in Melbourne by using the direction.
Some of the more expensive choices on the vast menu include a single abalone for $150 and a lobster feast that must be pre-ordered a day in advance.
Cantonese specialties abound at this Melbourne Chinese Restaurant. It includes all the typical dim sum dishes (reservations are highly recommended for weekends with yum cha).
Peking duck pancakes and shellfish in XO sauce are also on the menu. The omelet bag containing fried rice contains school prawns, which may be peeled open to expose the prawns. Steamed buns adorned in the shape of pigs and filled with delicious red bean paste are served as dessert.
Chinoiserie wallpaper adorns the stairs leading up to the second level, with 200 seats. Two wooden Buddha statues welcome you at the entryway, and red lanterns swing from the ceiling. Wooden paneling with cut-outs divides the vast room into several areas.
The restaurant is among the best ones out there, so don't miss the opportunity to have a meal when you are in Melbourne.
Rising Embers The Chinese Restaurants in Melbourne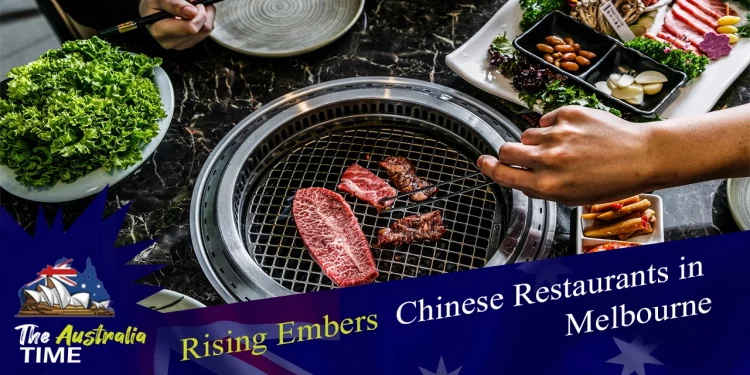 Unlike Dainty Sichuan, where the emphasis is on heat, this Sichuan BBQ establishment focuses on meat. The aroma of cooked meats will lead you upstairs, where you'll have to wait a bit in this Chinese Restaurant Melbourne. Using an iPad menu, you can choose from various Australian lamb, seafood, hog, poultry, and vegetarian options.
Plates of raw meat and vegetables are then brought to the table to cook yourself. Either unleash your inner grill master or defer to your host's culinary prowess to a large extent.
Pig ribs, black pepper-strewn Squid tentacles, and a marinated pig belly with plenty of garlic are just some of the options on the buffet table during a barbecue or tailgate party. However, Wagyu is the star of the show here.
The dessert options are a sour prune powder-dusted fruit salad and a sweet drink prepared with mung beans. After overeating meat, the greasy sensation you get 
Traditional and industrial elements are mixed in the design. Tables and chairs are neatly arranged beneath a white-painted thatched canopy, which matches the exposed steel beams below. Allan Li, a Melbourne-based artist, has a monochrome shot of Chinatown on the mezzanine. Greenery and cloud-shaped lights on the ceiling help to brighten the otherwise nearly black and white room. You will find this Restaurant by following the direction.
Supper Inn The Chinese Restaurants in Melbourne
On entering Supper Inn, you get the sense it hasn't altered much since it first opened its doors in 1977, with its wood-paneled stairs. As you make your way up the squeaky stairwells, you'll remember that sensation forever. This supper Inn is best for its classy delicious food in Melbourne's Chinese Restaurant bayside.
The eatery has an office-cubicle light, making it seem like a school. As soon as you enter the room, you'll feel like you've entered an ethereal realm. You came to Supper Inn for the cuisine, not the name-brand decor. And it consistently outperforms itself in this regard.
Until 2.30 am, the kitchen consistently serves delicious Cantonese classics every night, aside from the famous roast pork or chicken congee, which is like a warm hug from a long-lost friend. Since it's laced with delicate meat and a generous amount of ginger, there are 206 meals on the menu (222 when you include beverages). However, there's plenty of room to try something new. By visiting this fantastic Restaurant, you will be surprised by their delicious meals.
Mr. Meng Chongqing Gourmet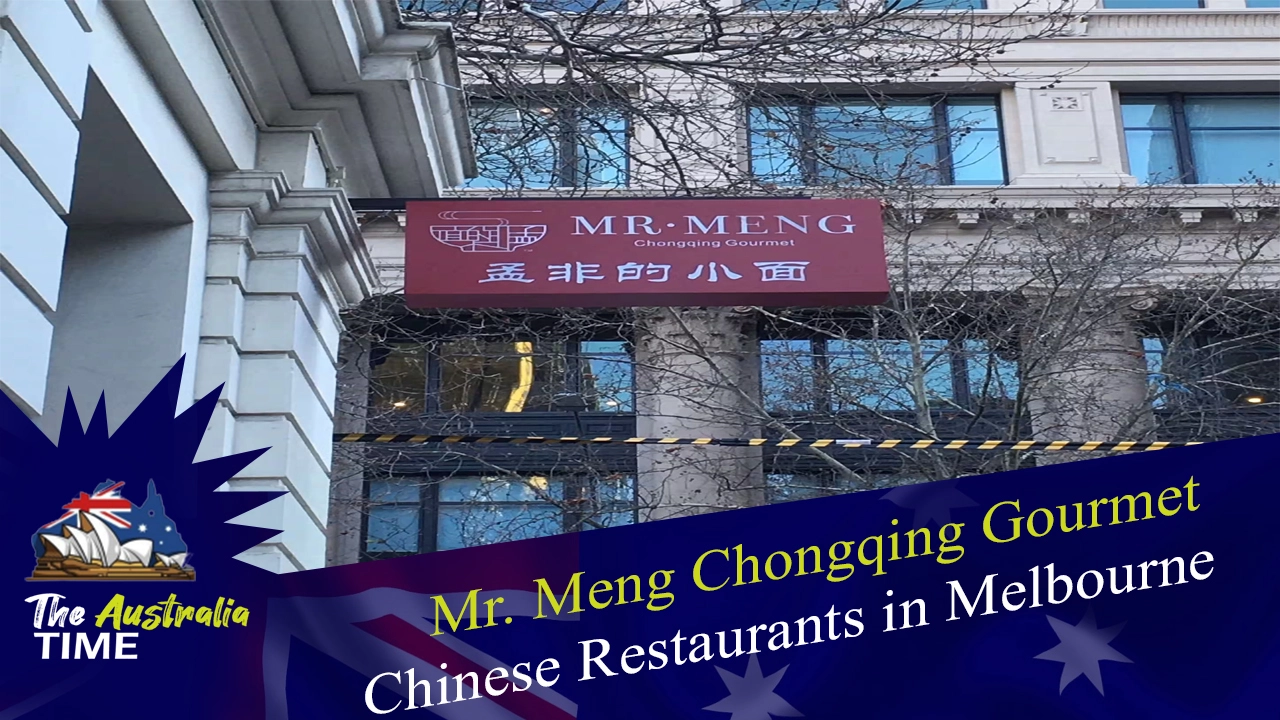 Mr. Meng Chongqing Gourmet, a restaurant in Nanjing founded by Meng, was born in the south-western Chinese municipality of Chongqing. With the opening of a shop in Melbourne, the brand has now expanded internationally for the first time. It is located in Elizabeth Street Melbourne.
It is impossible to enter the Restaurant without being assaulted by the potent perfume of chili oil. Booths. Wood tables and banquettes with seating for two to four people are scattered around the space. It is decorated in warm tones of red, purple, and brown.
The distinctive Chongqing spicy noodles, a braised pork rib noodle soup, and wontons in spicy soup are all available for less than $15 per serving. There is a selection of Chinese soft drinks and tea that has been imported. Noodles with pig mince and peas are among Meng's favorite recipes, as are burning dry noodles and noodles with peas.
Fortunately, each meal has a regulated spice level ranging from one to five stars. Aside from being known for its hotpot, Chongqing is also known for producing some of the spiciest noodles in China. And we mean it when we say that even the one-star meals at Mr. Meng are packed with flavor.
Crystal Jade The Chinese Restaurants in Melbourne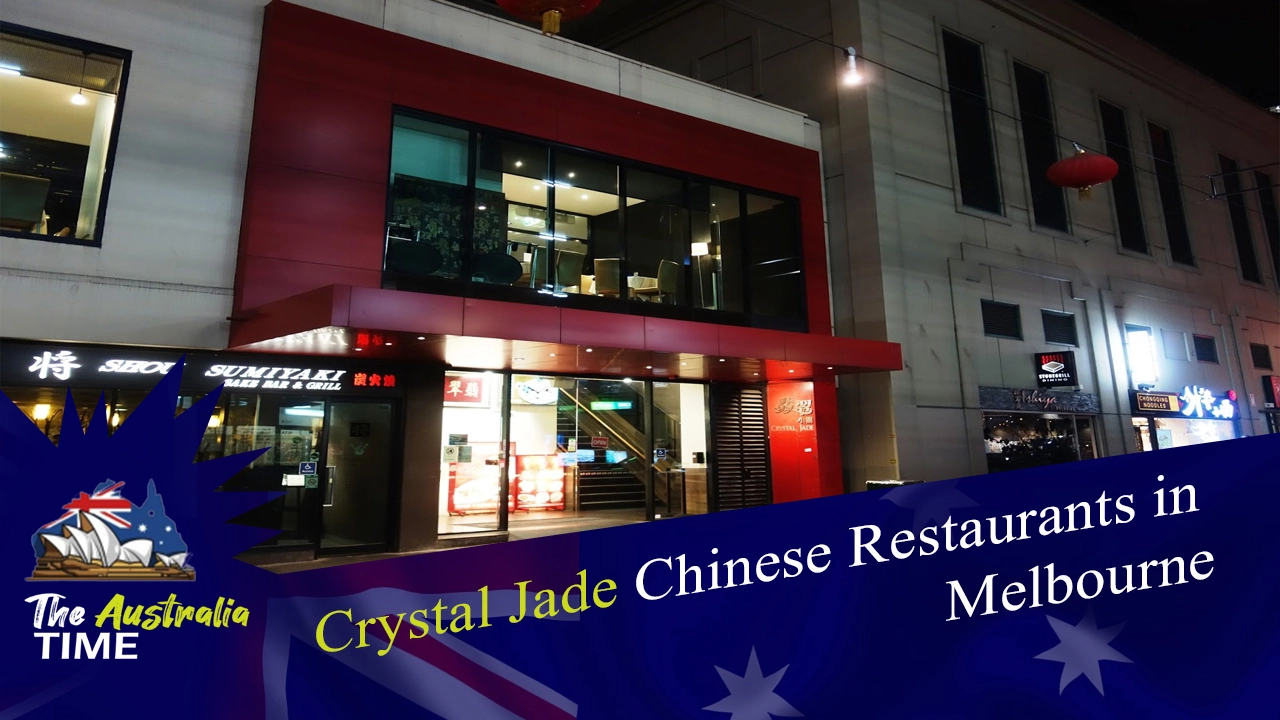 Crystal Jade Chinese Restaurant, located on Little Bourke Street in the heart of Melbourne's central business district, serves up superb meals in a friendly atmosphere. This magnificent first-floor Cantonese restaurant is a solid local favorite. 
I have substantial white-clothed tables teeming with diners from lunch until late at night, making it the perfect venue for large groups, family get-togethers, and business meetings. On one side, you'll find live seafood tanks, and above glittering chandeliers lend a sophisticated touch. 
As you anticipate, a comprehensive yum cha and a la carte menu that includes meals like trademark grilled black cod with kushiyaki sauce and other delectable options. Start with shark fin soup and crab meat, or deep-fried salt and spicy boneless quail, before moving on to mesmerizing mains such as braised chicken and sliced abalone cooked in a clay pot served with steamed veggies and fried rice as accompaniments. It is considered as best and top Chinese Restaurant in Melbourn.
China Chilli
Chinese Restaurant China Chilli is located up the escalators in the same building as dumpling giant Tim Ho Wan and HuTong spin-off China Red. However, it is a more upmarket eating choice than its more affordable neighbors.
The experience of walking into the Restaurant is similar to being transported into a Wong Kar Wai film, albeit more modern and sleek. Vibrant red, low lighting, glowing neon signs, and graphic wallpaper. Covering the dining room walls that are divided in half are all possibilities.
There is an all-you-can-eat DIY hotpot on one side of the Restaurant, where you can get creative with your toppings. A printed menu outlines the various broth bases (including hot Sichuan and mild tomato soups) and the components used in each broth base. Seafood, meat, poultry, and veggies are all available as options. Everything is entirely free, and you may remain for as long as you like.
The menu for the venue's second half has a variety of a la carte items, such as steamed and braised meats, live fish from the tank, and fruity desserts, among other things. Additionally, a Hawkers Lane portion offers more affordable street-food alternatives like dumplings and scallion pancakes, among other things. Follow the direction for the best Chinese chili restaurant in Melbourne.
Westlake The Chinese Restaurants in Melbourne
With Chinatown restaurants, there are many turnovers: many of them come and go, only to be replaced by newcomers riding the newest fads. But when a business has been there for this long, you know it's doing something right.
Since it initially opened its doors in 1982, West Lake has provided Cantonese cuisine to homesick expatriates and food-loving locals. Various traditional foods are prepared in the kitchen till far past midnight, with yum cha available from 5 pm to midnight.
Tableside preparation includes slicing the flesh and wrapping it in a steamed pancake after an order of Peking duck is delivered on an elegant cart. There are a la carte items such as scallops in XO sauce and stir-fried veggies if you want something a little more low-key (the Westlake special also features lap Cheong).
On the red and white walls of the main dining area, there are a few mirrors and images of menu items to brighten the space. On the second floor, there's another one, and along the stairway, there are portraits of renowned Chinese guests over the years. If this Restaurant is good enough for Jackie Chan, you can rest assured that you are in good hands as well. Find this Chinese Restaurant in Melbourne by the directions.
Let's finish up
If you're a fan of Chinese cuisine, the Gold Coasts of Australia is the ideal location for a meal at one of the many Chinese restaurants. Every aspect of the dining experience at these establishments is first-rate, from the ambiance to the food.
In addition, you'll be able to learn about more possibilities thanks to The Australia Time.